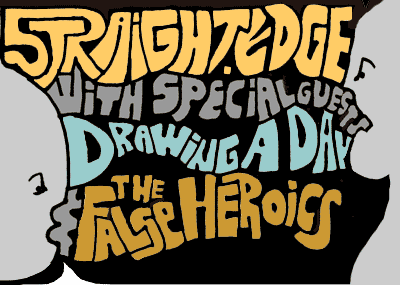 TOURDATES:
Fri, Aug 22: Kitchener Show

Where:

The Old Fire Hall (Ottawa St.)

City:

Kitchener, ON

Time:

7:30

Cost:

$5

Bands:

Fighting The Fall (SK88), Token Glory
Sat, Aug 23: SonQuest Festival

Where:

Riverstone Retreat, off Hwy 4

City:

Durham, ON

Time:

10am - 10pm

Cost:

$25 at door, $10 advance (buy)

Bands:

Esoteric, Minute Switch, Iron Citizen, more
Sun, Aug 24: Brampton Show

Where:

First Baptist, Main St.

City:

Brampton, ON

Time:

7:30pm

Cost:

$5

Bands:

Ten Speed Hero
Mon, Aug 25: Woodstock Show

Where:

Polish Hall (878 Dufferin Street)

City:

Woodstock, ON

Time:

7

Cost:

$5

Bands:

Luminer, Fighting the Fall (SK88), Nyne Starr
Tues, Aug 26: Brantford Show

Where:

The Ford Plant, 60 Colborne St. (Downtown)

City:

Brantford, ON

Time:

7pm

Cost:

$5

Bands:

The Majesties, Panda, Penguin & Porcupine
Wed, Aug 27: Owen Sound Show

Where:

Victory Cross Roads Church

City:

Owen Sound, ON

Time:

TBA

Cost:

$3

Bands:

One Way Out, Fighting The Fall (SK88)
Thurs, Aug 28: Straight Edge Final Show

Where:

Durham Catholic Church gym

City:

Durham , ON

Time:

7pm

Cost:

$8 advance, $10 door (300 max)
For advance tickets call Jaqueline @ #1-519-986-4175 or bionca_23@hotmail.com

Bands:

Our Pure Country, Token Glory

For more info on shows, etc. contact:

Mike Harloff (Straight Edge): 519-369-5350
straightedge_@hotmail.com

Adam King (False Heroics): 519-756-2475
adam@thefalseheroics.com

Straight Edge:

info: website

mp3's: mp3.com

Headlining this tour, the emo-punkers of Flesherton's Straight Edge are promoting their brand new CD, Shadows and Silhouettes, but also this is SE's blast to the finish line. The last show of the tour is the last SE show, as the members will be heading off to various schools (except for Jason, who has joined SK88.)

Drawing A Day:

info: website

mp3's: mp3.com

Shelburne, Ontario's Drawing A Day, formerly known as Guinea the Pig, booms through with elegant, in-your-face mathy emo in the vein of Moneen and At The Drive-In.

The False Heroics:

info: website

mp3's: mp3.com

Passionate and contemplative indie rock is the False Heroics specialty. Hailing from Brantford, Ontario and formerly known as Pure Nard, the False Heroics is promoting their first EP, Stars Gone Black.